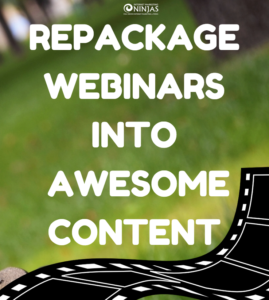 Webinars are an excellent way to connect with users, directly engage, promote services, generate leads, and build authority.
Webinars are among the most effective promotional tactics out there providing you with lots of opportunities from marketing to sales.
A single webinar can provide benefits for years to come.
There is no doubt that webinars are incredible resources. But they don't end at the webinar itself. You can repackage that content into new content, which will stretch even further.
As you may know, I am big fan of repackaging and writing productivity and I see webinars as the huge opportunity to try the tactic.
Here are some ideas to get you started..
Offer It As A Video
---
The easiest way to get more from your webinar is to offer it to people who couldn't be there for the live version. You just take the recorded video, stamp on a … Read more