Chart of the Day: More than half of UK business owners unaware of incoming General Data Protection Regulation (GDPR)
We only have a year left before the GDPR is officially implemented on 25th May 2018. But the figures in today's chart are showing many businesses may be left with fines of up to 10 million Euros or 2% global turnover, unless action is taken.
In the chart, we can see a massive 84% of small and medium-sized enterprises (SME) and 43% of C-suites are not even aware of the forthcoming regulation.
These statistics are mind-boggling high. And rest assured the fines are going to be huge. And there will be no leniency.
If you don't start to take action and respect the new legislation, you will be putting your business's reputation at risk.
Want to find out more? Visit our GDPR page.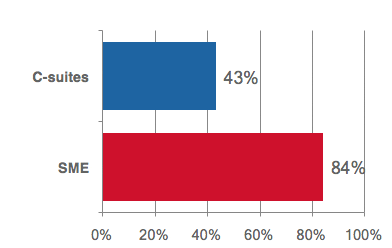 Sample Size: Small Business Owners 3,002. C-Suite Executives 300

Recommended Resource: GDPR briefing guide