How you can use push notifications to increase your online conversions
You already know about email, social media, affiliate marketing, SMS, ads (Google Adwords, Facebook, Bing). All these channels have their own piece of the marketing promotion pie, where you can deploy different kind of campaigns to reach and engage users.
Online businesses use all or a part of these channels to attract visitors to their website, as well as engage with the ones who have already visited it. But there's a new one that looks very promising for both businesses and users: push notifications.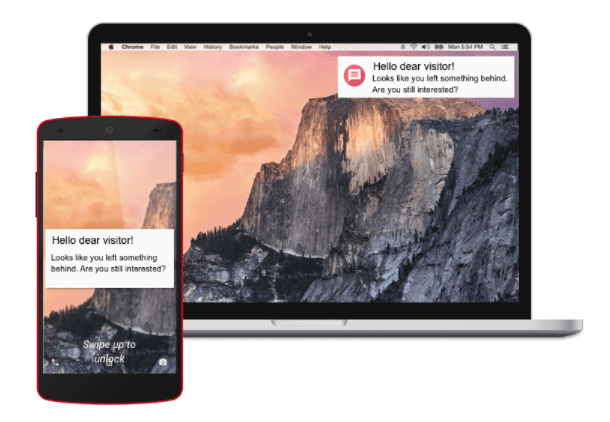 Push notifications have a short history in the world, coming from mobile apps, where IOS and Android used them as the default way by which mobile apps communicate with their users.
The advantage of delivering the message in real time with a higher response rate compared to email (50% higher according to CampaignMonitor) gives this channel the chance of becoming number one in terms of marketing ROI.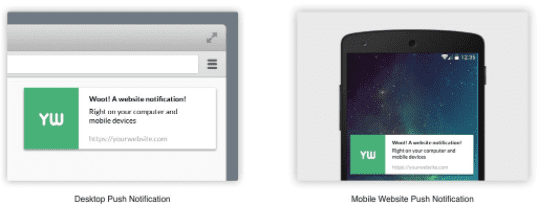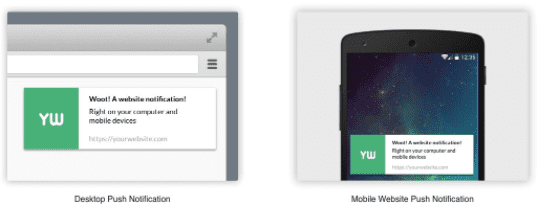 We might be also tempted to think of push notifications and text message of being the same, but they have crucial differences.
Permissions for push gives user greater control over what kind of messages he/she wants to receive

SMS comes unsolicited and it's sometimes impossible for the user to disable it

The costs of SMS are much higher, going about 5 cents per message, where push notifications are almost free
Are notifications going to replace email marketing?
Mobile marketing and marketing automation is where the magic is these days. Notices of sales, offers and discounts landed in customer inbox are not enough to build a good marketing strategy. Now, customers want those alerts in real time, flashed up on the screen of their mobile device, easy to discard or to take an interest in. These instant alerts, called "push notifications", are being widely adopted by consumers and if your business is not using them, you are very likely losing money.
A survey by Responsys found from 1,200 adults that almost 60% of adults have downloaded apps from their favorite brands and from those, 7 in 10 have enabled push notifications.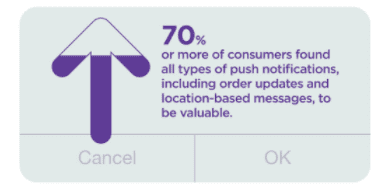 Push notifications will not replace email marketing, the same way email marketing didn't replace old catalogs received through emails, but will definitely get a piece of this pie.
What are the benefits of such notifications?
Real-time communication
Instant delivery of push notifications allow you to communicate in real time. Being flexible in marketing strategies and having an ability to react to breaking news and relevant trends in order to communicate with customers is strongly encouraged for a business.
Non intrusive
Every visitor has to decide himself whether he wants to receive notifications or not from you. This means that as a business owner you do not have to worry about bothering your clients with push messages, as visitors themselves agreed to receive them.
Fast implementation.
Website push notifications are easy and fast to implement. Service have all the necessary script writing done and the only thing you, as a client in this case, need to do is copy-paste ready Javascript into your web page. It usually takes just a few minutes and with an assistance of customer support can be done by anyone.
Read more about getting started with push notifications
How other online retailers are using push notifications?
Walmart
Walmart used push notifications to send consumers new products that the customers have shown interest in previously. This increases user retention rates by up to 100%.
Another advantage of having offline supermarkets everywhere, allowed the company to developed a geo-based push notification that lets the app to automatically send relevant pieces of information based on its current location.
Buy Whole Foods Online
Growing total customer number from 1150 to over 2000 in just 2 weeks was easy for this british small retailer using push notifications.

Image: courtesy of buywholefoodsonline.co.uk
How can you make use of push notifications to drive sales to your online store?
1. How often send a push notification
Push notifications are not so intrusive as emails, and people are already used to receive a few a day.
Try to see it from your customers' point of view. Ask yourself whether this type of message is really suitable for notification.
We'd recommend sending one per day, or maybe two if your customers are active and are interested in your products.
2. Timing. What time to send?
According to experts from the Localytics, users read notifications on their daily commute to work, when in need of a distraction at work or when their smartphone is within reach. Notifications sent on working days have 66% higher rate of reading. During the weekend, the response on those push notifications is lower.
So, the optimal times are between 12 and 17 pm. That is the time when the user has the opportunity to read it.
TIP: Don't send notifications too early in the morning or too late. After the bedtime story and before wake-up, you might have a 95% clearance in order to bother your customers.
3. Notification length
The number of words displayed in a notification message varies depending on the device and browser type. Android has a limit of 60-90 characters, IOS has 120 but browsers like Firefox has only 50. Chrome can show up to 2 lines, and allows you for two more extra buttons. Remember then that shorter messages are usually more effective. Experts state the optimum is about 10 words.
What's an example of such a message?
"For gourmands: 30% off on seafood. Try it"


4. Copy of the message.
Because text length is limited, and users are already flooded with thousands of words from media, internet and mobile you have to create a catchy call to action. With quality and helpful message you can achieve this.
Be specific.

Evoke emotions.

Add verbs
When shouldn't be notifications used?
Push notifications are ephemeral, so they disappear easy from your user screen with a simple tap or click.
Do not send important information that needs to be reference later. For example, don't send a unique voucher code that the user will simply lose.

Do not promote third party products, because users have you their permission the same way a user subscribes using its email address.
Ultimate features for push notifications in ecommerce.
While this is not an exhaustive list, we recommend you looking into the following when choosing a provider:
Location targeting.




Being able to present localized offers to your users, based on their location might be of interest especially when you have a presence in specific areas/countries.

Product/Category targeting.




Are you able to segment your visitors and send them a specific offer based on their onsite interests in specific categories, brands or anything else?

Abandoned cart or transactional push




Very similar to recovery of abandoned carts, this feature should allow you to send push notifications based on user behaviour

Recovery of blocked notifications




Not all visitors block push notifications. Services that offer solutions to recover lost subscribers have an advantage.


Smart Scheduling




Although push notifications work anytime, the conversion rate is higher if you're able to send them when the user is online. That will be possible if the service considers each user online time.

Pre-ask before requesting permission




Because you only have one chance from the user to give or deny push permissions, make sure the service you're using will tell the user about this before asking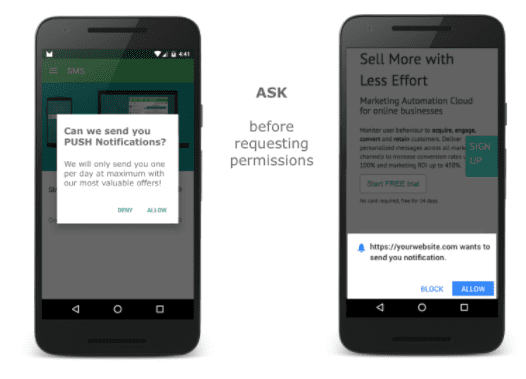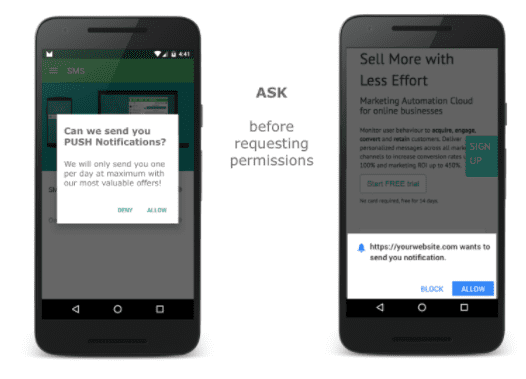 Final considerations
Push notifications is a new marketing channel, with great potential. They allow you to get personal with your customers, in a simple and non intrusive way. As with emailing, do not oversend. The fact that push doesn't interrupt user activity is not a license to send them very often them.