Chart of the Day:Â Snapchat was the most used social media app for twice as many people in 2016.
Today's Chart of the Day is influenced by the latest news of Snapchat trialing two new features to increase a marketer return on their ad spend on the channel.
But before we get into the new features (scroll to under the chart if you can't wait), this chart from the infinite dial 2016 report from Edison research shows that while Facebook is the most used social media channel by a significant margin, Snapchat is the only brand to make major gains when compared to 2015 by moving from 4% of users to 8%. This is only made more incredible for Snapchat when you consider that Facebook, Linkedin and Pinterest had their share reduced and Instagram remained the same.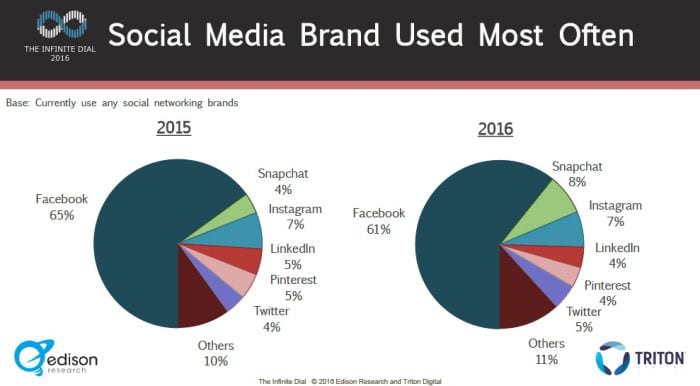 To capitalise on this growing audience especially in the over 18 age group Snapchat is trialing two new features to improve the return marketers gain from ecommerce and lead generation marketing campaigns.
1. Adding Deep-links to your Snapchat Adverts
By allowing marketer to add Deep links to their adverts, Snapchat users are able to swipe up and tap a link, which will open another app and display a specific place, such as a product page on ecommerce site or playlist in a music app.
2. Auto-fill lead generation forms
Auto-fill allows users to complete your lead-generation forms with one tab of the screen once they have viewed your advertising. Making your potential customers fill in field after field in a form has always had a major impact on conversion, so by removing the need for users to import their details you would expect to see a significant increase in your campaign conversion rate. Privacy is always a big issue when discussing any social media platform and this update is no different. The user will be asked if they would like to opt-in to this feature or not.
The new ad features are a step in the right direction, they do seem to be launching features to bring them inline with the other platforms to try an entice marketers to spend their budget with them rather than being innovative platform that has made them so popular today.