Chart of the day: Have we become generation 'Treat yo self'? Social media trend analysis reveals why and what we are spending our money on this Christmas
Have you ever been Christmas shopping but found you only bought gifts for your self? This is a common theme on social media this year. 'Treat Yo Self Day' originated from Tom and Donna off 'Parks and Recreation' and the day caught on.
According to one source shoppers are self-gifting more than ever in 2017. But what's driving this behavior? Crimson Hexagon looked at the conversation on social media, to unveil the reasons why people shop for themselves and discover what they buy for themselves.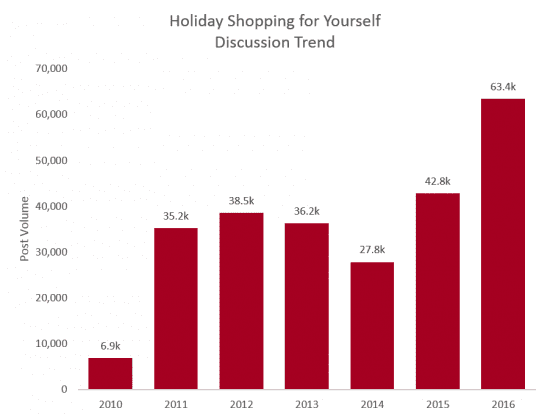 The conversation around self-gifting has significantly increased over the years, going from 6.9k total posts in 2010 to 63.4k total posts in 2016. Popular hashtags around the conversation include #treatyoself, #sorrynotsorry, and #merrychristmastome.
The top hashtags on Twitter … Read more