Chart of the Day: How does your advertising budget break down compare to the average?
As we start the new year many marketers will have already been negotiating their advertising budgets for the coming year. Once approved the next major hurdle is to decide how to split that budget across the multitude of channels that are available. Search, Display, Facebook, Instagram, Snapchat, Twitter, Pinterest the is seemingly never ending, So how do you decide?
Today's chart of the day highlights that marketers like to hedge their bets when it comes to their marketing budgets, which is a good strategy, as it's risky to have "all your eggs in one basket".
As shown in the chart below the highest proportion of the budget is reserved for traditional advertising which makes sense when you consider the costs associated with Radio, Print & TV advertising. Now if we combine Social and Display you get a substantial 27% of the budget, which is a little surprising when you consider that these channels often deliver the fewest sales when compared to SEO and Email marketing.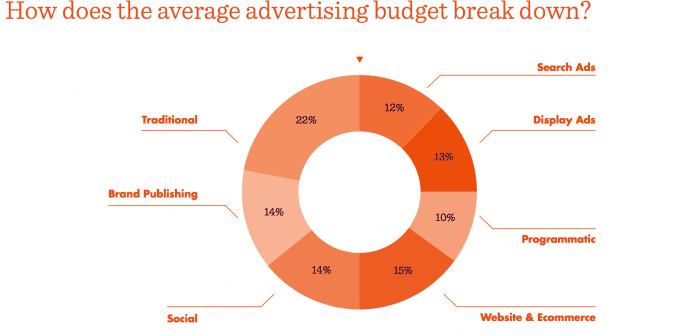 If you are currently in the process of assigning your advertising budget or feel that you would benefit from a little more structure to your budgets our Digital Marketing Planning Spreadsheet Template will help you to set your overall budget and quickly adjust the % investment in different media channels to see the impact on your forecasted results.