Chart of the day:How can latency be applied to other sectors to understand engagement and to design lifecycle communications?
I don't see latency talked or written about much, so I was interested to see this new research from Monetate that shows average latency between purchases. So, what is latency in marketing? I think latency is best defined in the context of the customer lifecycle, that is:
"Latency is the average time it takes between different lifecycle events for different groups or cohorts of customers".
In this research, to measure engagement, Monetate looked at how frequently customers began a new session within a set time period, specifically the number of sessions and the number of days it took for a customer to complete a purchase.
For first-time customers, the baseline latency from the first visit is an average of 25 days and 3.5 sessions to complete a purchase. Here is the latency for repeat purchases: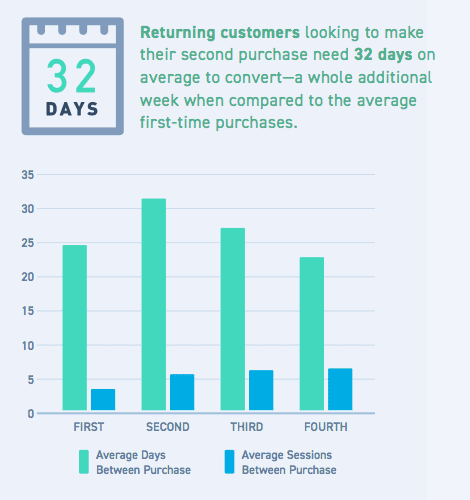 The chart shows the latency for returning customers who make their second purchase need, on average, 32 days to convert-a whole additional week compared to the average first- time purchases. And those customers returning to make their third purchase need, on average, 27 days to complete their transaction.
Implications of Reviewing Latency for Engagement communications
Although this data can be used for comparing to your latency if you are a retailer, in a similar way to our retail conversion rate benchmarks, we can expect latency varies a lot between different types of purchases and the range of product categories from a retailer. Here are some of the practical implications of reviewing latency in retail and beyond, you can…
Compare latency to length of time to when emails are automatically triggered to encourage a follow-up action like purchase. You can potentially change the number of emails and frequency by asking how many emails are appropriate in the period or to nudge?

Change on-site personalization timeframes for recommending 'next best product' or 'next best content' to encourage repeat purchase.

Compare latency to cookie windows – if you are using a 7 day or 30-day cookie window for attribution this may be insufficient, e.g. for higher value purchases.
Finally, it's worth noting that a risk of using latency is that these are averages, so that if there is a wide variation in time between activities then this needs to be taken into account.
Sample: Transactions from Monetate customers (mainly in UK and US)

Recommended toolkit: Ecommerce toolkit