Chart of the Day: The Importance of video in marketing 2018
As marketers find newer, more creative ways to attract audiences, video usage is becoming a key scope of interest for revenue growth.
Video is no longer considered a niche skill or category when trying to expand the types of content that your company can produce. The costs and skills required for video production have gone down tremendously in the past years, making it a highly efficient way of communicating your brand's story.
Alongside the power of visuals, videos can also be used to create an engaging narrative that not only draws the audience in but also helps build relationships with your consumers and prospects.
"The State of Video Marketing 2017" study reported that for the fourth consecutive year, over 90% of participants have said that video is becoming more and more important as a form of marketing content.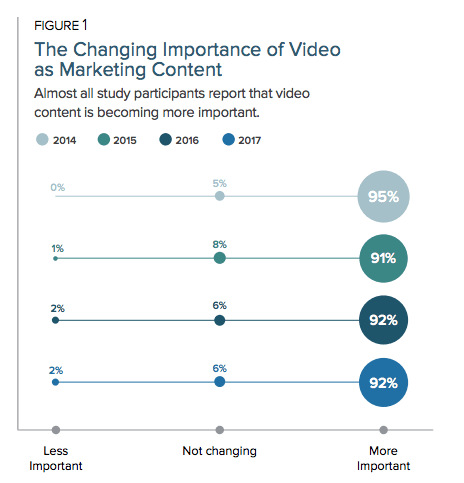 An aspect that makes video a key component of the modern-day marketing is its ability to be used in many different ways and places. Video content can be used on social media, websites, landing pages and email, to serve an array of unique purposes.
The below image shows us the platforms where videos are most commonly used, such as websites and social media, including blog posts. In fact, social media channels have proven to be immensely favorable of video content, encouraging marketers to integrate video into their social media strategy.