It's Time for Ecommerce Marketers to start taking Pinterest seriously.
Pinterest is about far more than collecting aspirational pictures of perfectly decorated rooms, stylized desserts, and faraway locales. With the introduction of buyable pins last year, the platform's more than 100 million active users now also flock to the site to shop.
Compared to other social networks, Pinterest users spend an average of 50 percent more. Many brands are already taking advantage: By the end of 2015, there were more than 60 million buyable pins. In 2016, buyable pins became available on mobile platforms, increasing shoppers' ability to purchase anywhere at any time.
While other social networks struggle to find ways to convince users to make purchases, Pinterest's visual user interface makes it an ideal showcase for products of all kinds. Research by Shopify found 93 percent of Pinterest users utilize the site to plan purchases, almost like a vision board.
A Pinterest Home Run
Businesses of all sizes are using pins and boards to effectively market and sell products. Etsy is one major success story – Pinterest makes it easy for the social commerce pioneer's network of independent sellers to use the platform as a seamless e-commerce portal.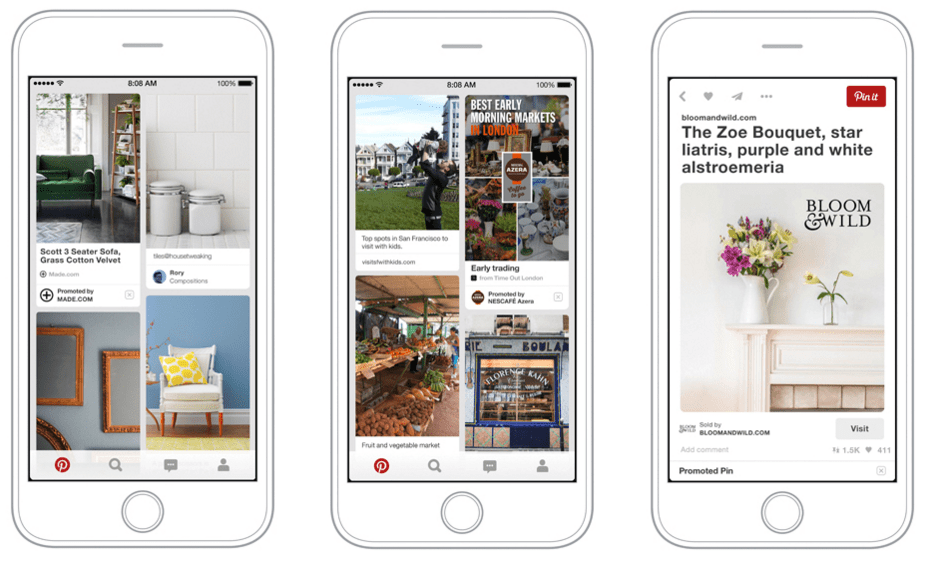 Etsy sellers have used the platform for years to display their products. When a critical mass of users was pinning the website's images, Etsy added a Pinterest Save button, which allows users to easily save photos from the site onto Pinterest.
That was in the days before buyable pins. Now, the buying process is even more seamless – when an item is for sale, its pin features an attention-grabbing blue price. Instead of being redirected to a third-party site like Etsy, the purchase is made directly within Pinterest's servers, using BigCommerce, Demandware, Magento, and Shopify's e-commerce platforms.
Transforming the Online Shopping Experience
Buyable pins open up a new lane for e-commerce companies that may want to bypass Etsy's (and similar sites') listing, transaction, advertising, shipping, wholesale, and other assorted fees. By not taking a cut of sales, Pinterest even beats Amazon's subscription, referral, and closing fees for both individuals and professionals. This positions Pinterest much better in the e-commerce marketplace than competing social networks.
It's only a matter of time before additional shopper-friendly features follow. In fact, with the introduction of Rich Pins, the company is making its internal search experience work more like Google. This free feature embeds maps, recipe ingredients, and other valuable information within images.
In the future, you may even be able to add multiple Buy buttons for situations such as purchasing all the ingredients for a recipe or supplies for a craft project.
Getting Started With Pinterest
All of this may sound like terra incognita, but optimizing a Pinterest board for a healthy ROI is very similar to SEO-optimizing your web page. To get started, follow these three steps:
Create a buyer's journey. To successfully utilize Pinterest for e-commerce, it's essential to first determine whether your target audience uses the site. For instance, nearly 70 percent of the platform's users are female and between the ages of 25 and 35.
What makes Pinterest unique is that you can determine what stage of the buyer journey a user is in by the location of your pin. If she's viewing a pin on your brand's board, she's likely just becoming aware, but when she repins it to her own board, she's likely in the consideration stage. Once a user reaches the decision stage, Pinterest's Buy button handles the rest.
Fill themed boards with great content. Etsy's evergreen popularity on Pinterest is thanks to the site's enticing boards filled with great content. Guest pins by Etsy sellers, popular bloggers, and even major brands like Martha Stewart Living have all been featured on the brand's boards.
And not every Etsy pin is sales-related. Many contain links to points of interest all around the web, not just back to Etsy.com. By following a similar tactic of delighting your followers, you'll build a strong network that increases visibility, backlinks, and traffic to your Pinterest account and, ultimately, your web page.
Keep in mind that the more you pin, the more engagement you'll get, so try to schedule between 10 and 12 pins per day.
Apply for buyable and rich pins. Of course, neither Rich Pins nor buyable pins are available to just anyone. They're additional features brands have to request. The Pinterest for Business site has a waitlist you can sign up for, or you can activate buyable pins on one of the e-commerce websites listed above. Keep in mind that while you won't owe Pinterest any fees for these features, you will need to subscribe to one of the e-commerce platforms.
You'll also need to validate your website to have Rich Pins appear on it. Similar to Twitter Cards or Facebook's Open Graph, Rich Pins can greatly increase the visuals on your web properties using social integration.
We increasingly rely on mobile devices to browse the web – content with eye-catching visuals is 40 times more likely to be shared than text. This makes Pinterest an ideal social platform for e-commerce. If your brand isn't already represented on the platform, what are you waiting for?