Chart of the Day:Â What is the best day to send your emails
In the chart below we look at B2B customers engagement with marketing emails they have been sent. It shows a spike on Mondays with 4.70% higher open rate than the industry average and then it slowly drops through the week. However, click-to-opens increases from Thursday through till Saturday.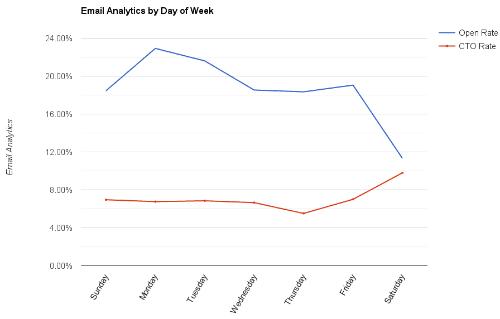 These results are surprising as this is for the B2B sector and generally the working day is from Monday – Friday. In the past, we have been told by blogs, papers and trends not to send on Mondays or weekends. But working hours are changing, due to Bring Your Own Device (BYOD) and mobile working. Our clients are being offered a more flexible working day, so this changes all previous trends or assumptions and will most definitely have an effect on engagement results.
I'm not suggesting changing your dispatch schedule overnight, but I do advocate A/B testing your dispatch times and throttling your dispatches to sees what works for your clients.