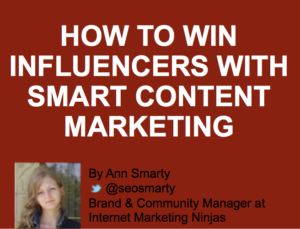 This week I was in NYC speaking about influencer marketing and how it helps creating stronger content assets for your blog. Here's my recap of the presentation:
First of all, content marketing is ALL about influencing not just your potential customer but also about influencing the influencer, i.e. those people who can effect buyers' decisions.
And what's a better way to accomplish that than to actually get that influencer create content for you?
According to the Association of National Advertisers (ANA) report, The Value of Influencer Content 2017 from Linqia, 57% of marketers indicated that influencer-powered content outperforms brand created content:
Influencer-powered content is more authentic and trusted than brand-created content (because influencers are real people who have already earned that trust);

Influencer-powered content sparks audience engagement (because people engage with people)

Influencer-powered content provides higher ROI (because it's more trusted and authentic and
… Read more