Examples showing how Chatbots will become an increasingly important marketing app in the future
Artificial intelligence and machine learning is one of the top trends in digital marketing for 2017. At the same time, we are seeing a reduction in demand for apps, particularly as the largest platforms are reaching saturation.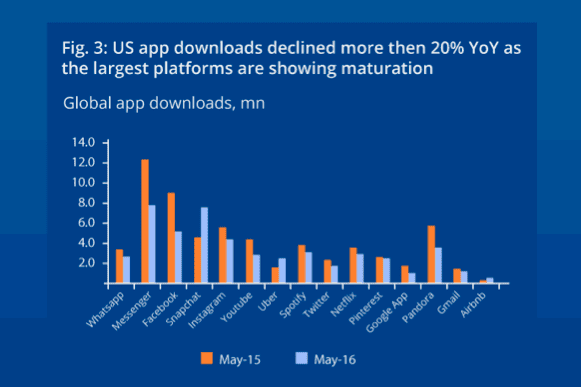 You could say that chatbots are the new apps; the new customer service reps, not to mention the new support system for marketers. In future, more people will turn to chatbots to manage their daily chores, be it ordering a ride or a pizza. Often these are built within Messenger apps themselves.
In fact, the rise of bots could be plainly attributed to increasing usage of messenger apps. According to Forester, people spend a staggering 85% of their time using the top messenger apps including Facebook Messenger, Kik, Slack and Whatsapp. So, businesses lately have come to realize that building a chatbot on one of the popular messenger platforms could be more viable proposition than developing a specalized app.
Facebook Messenger, which has 11,000 bots has become the top choice for businesses for bot development. So this may be a good place to start out when taking a first look a developing Chatbots that live within Messenger apps.
Marketers are eenamoured by chatbots for good reason. It's not all just hype because they are the new tech this year. They can offer real value to marketers in terms of UX and getting better insights into customers. Here we go through 6 reasons why marketers need to consider developing chatbots for their business.
#1. Chatbots Come Mobile Optimized
First things first: Chatbots come mobile optimized, thanks to the market using the mobile-first approach. You don't have to go through the additional trouble of getting them mobile-optimized. More importantly, they are easy to implement. Say, for instance, Taco Bell's TacoBot app. The chatbot integrated with Slack – which one of the world's leading work chat platforms – that lets employees chat, order and pay directly from Slack.
Additionally, Tacobot answers questions, offer recommendations and also organize group office orders. On top of it, the bot boasts of witty personality – a unique trait associated with Taco Bell.

Lawrence Kim, Taco Bell's director of digital innovation says:
"The TacoBot Slack integration is the latest step on our journey to make the brand more accessible, wherever and whenever our fans want it. It's the next best thing to having your own Taco Bell butler… and who wouldn't want that?"
The bot is in beta phase and is available for testing in select workplaces.
#2. Chatbots Ensure Consistent Brand Voice Across All Social Media Channels
Let's face it. The social media landscape is fragmented. And, with the growing popularity of several social media platforms, it's become all the more crucial for businesses to maintain a strong brand presence across all major platforms such as Facebook, Twitter, Instagram, Snapchat, among many others.
This means businesses have to run multiple campaigns across various platforms. This means all the platforms have to be updated regularly. And given their growing audience profile, businesses can't afford to resort to mundane content marketing efforts, unless, of course, they don't mind customers making their way toward competitors site.
Enter chatbots. By Integrating them across all social media platforms and then having them interlinked, marketers can update brand messages at once across all platforms. This makes sure you have a consistent brand voice across all platforms.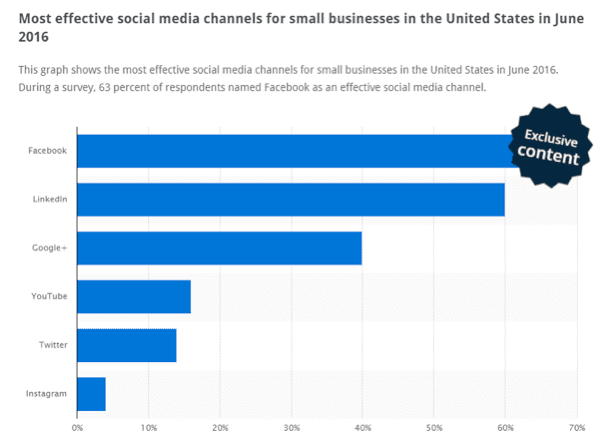 Image source: statista
#3.Chatbots Enable Real-Time Analysis
Chatbots are improving with time, and are been built to produce lot more data for companies to capitalize upon. They update in real time and reflect data as communication flows back and forth from customers to chatbots and vice-versa. The insights gleaned could be used by businesses to tweak and personalize future marketing campaigns in keeping with the latest trends.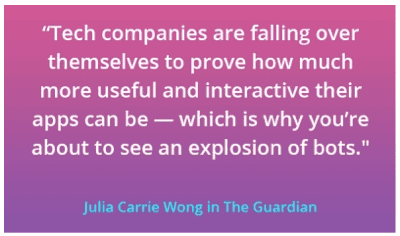 #4. Chatbots Ensure Optimal Customer Satisfaction
Customer satisfaction is the holy grail of marketing. It's really important for them to feel valued and cared throughout the entire sales cycle. Now the big question is: how to satisfy your customers. Simple: Be at their service 24 X7. Yes, it's impossible from a human standpoint. But easy for Chatbots. That's the magic power of chatbots.
66% of US consumers are willing to spend more money with a company that provides them with excellent customer service, according to Microsoft, while 60% of consumers say they have not completed an intended purchase due to a poor customer service experience – BI Intelligence
In this age of instant gratification, chatbots are programmed to offer an instantaneous answer to your queries, whatever the time of day it is. More importantly, they'd be able to communicate in a consistent brand voice. Going forward, bots would be an obvious extension of your brand's user experience and could act as a chief catalyst for future growth.
#5. Chatbots Require Minimum Development Time and Cost
Bot development is unlike building a mobile app. Given that most of the groundwork is already done, at the time of building the app framework that is, you already have a shoulder to stand on. This automatically decreases the time and money required in the development of new bots. Generally speaking, bots require just about one-fourth the time to build than a standard mobile app.
What's more, bots require minimum maintenance, designing is easy and the nearly the entire development process is automated, so there's no requirement for extensive backend as well.
#6. Chatbots Offer App Aggregation
App aggregation means that a single chatbot could be connected to multiple apps. Which means marketers could solve multiple customer queries at once go, from a single bot platform.
For instance, if the customer seeks an information about a taxi ride or some breaking news, the chatbot would gather the required info by connecting with relevant ride and news apps.
For example, the Assist chatbot has aggregated apps like Uber, GrubHub, Eat24, Lyft, Onslet, Flowers.com and more.
All these apps help customers with their various needs such as ordering a ride or flowers, booking a hotel and things like that. Nevertheless, for a chatbot to connect with an app, you'd have to message Assist via Facebook Messenger, Slack or Telegram about your requirement. The chatbot would then swing into action and connect with relevant apps for an instant solution.
Rounding up
Chatbots growing influence among businesses is undeniable. Nevertheless, businesses need to adopt a more fail-safe approach is to treat their customers well because the bots, unlike humans, are emotionless machines and won't be able to offer convincing answers to each and every customer query. The only fail-safe way to keep your customers consistently happy is by making sure that human support is available whenever bots face an unusual question or a query.